The UNESCO Institute for Statistics (UIS) and the Global Partnership for Education (GPE) are proud to present the fruit of their collaboration in optimizing Education Management and Information System (EMIS) for the monitoring of SDG 4 indicators with the newly launched guide: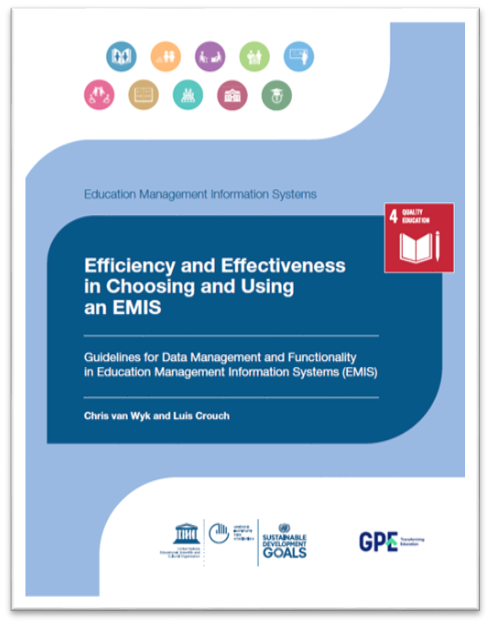 The Efficiency and Effectiveness in Choosing and Using an EMIS. Guidelines for Data Management and Functionality in EMIS – essentially a "Buyer's Guide" and a "User's Guide" to EMIS - answers the needs expressed by countries for guidance from the international community. 
How to improve their EMIS; including at the technical level in discussions with development partners wishing to contribute to the development of countries' data for education.

It also serves as a way to specify a standardized default EMIS platform, or act in lieu of such a platform.
The Guide was announced during a webinar organized by the UIS and GPE on 16 September 2020. The event brought together countries, key stakeholders and regional organizations, inviting all to engage in a conversation on countries' experiences in the implementation, use, and challenges they face.
Silvia Montoya, Director of the UIS, and Alejandro Jose Palacios, Director for North America, the Private Sector and Foundations at GPE, welcomed all participants to the event, attended by over 200 people from all over the world. 
The authors of the guide, Dr Chris van Wyk and Luis Crouch, offered a summary of their work before invited representatives of the Gambia, the Maldives, Nepal, and South Africa discussed their various experiences and challenges in implementing, operating and using national EMIS. Each of their individual experiences provided the audience with a variety of settings in which EMIS are used to report on national education, leading to a rich Questions and Answers (Q&A) session, moderated by Margaret Irving, an education Economist at GPE Secretariat.
Lastly, the UIS took this opportunity to introduce and show a preview of their new supporting tool for the use of EMIS to report on SDG 4, the EMIS microsite.
This webinar is the first of a series to be announce in the coming weeks, and which will bring to the discussion multiple themes including:
the launch of an Operational Guide

opportunities and challenges associated with existing school, student and teacher ID systems

possible mechanisms and strategies for effective donor (development partners) coordination of EMIS activities for countries

challenges of various EMIS softwares and ways to integrate them 

how to develop "Minimum Standard" of EMIS software (e.g. internal verification mechanisms)

other topics such as capacity-building on education statistics and role of UIS

how to optimize the EMIS microsite to improve the collection, compilation, reporting and the use of education data
You can view the recording of the webinar here.
Efficiency and Effectiveness in Choosing and Using an EMIS. Guidelines for Data Management and Functionality in EMIS
by Dr Chris van Wyk, Researcher at Stellenbosch University in Department of Economics, South Africa
Luis Crouch, Former Chief Technical Officer GPE, GPE Senior Consultant, UIS Board member and advisor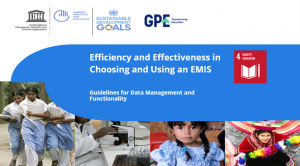 Perspective of Improving Learning Outcomes
by Dr Martin Gustafsson, Education economist, Stellenbosch University, South Africa
Questions & Answers
During the webinar, speakers answered a number of questions...