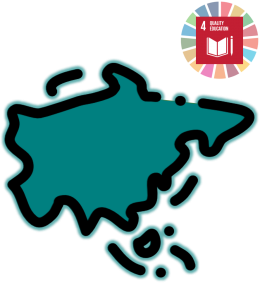 The Asia Pacific Regional Thematic Working Group (TWG) Education 2030+, co-chaired by UNESCO Bangkok and UNICEF, serves as the regional coordination mechanism and the Asia-Pacific Meeting on Education 2030 (APMED2030) will serve as the regional consultation platform for the exchange of knowledge, best practices and support to countries in all aspects of the implementation and monitoring of SDG4-Education 2030.
The regional coordination mechanism also brings together the following sub-regional organizations: South East Asia Ministers of Education Organization (SEAMEO), South Asia Association for Regional Cooperation (SAARC), and the Pacific Islands Forum (PIF). Each of these organizations has its own education sector strategies aligned with SDG4-Education 2030 and they also participate in broader regional level efforts.
The UIS has been closely working with Asia Pacific Technical Working group- Education 2030+ in developing its Regional Roadmap (2015-2030) and providing technical support in implementing monitoring components of the roadmap.
Given the large geographical spread of the Asia-Pacific region, sub-regional organizations play a significant role in the efficient coordination of regional-level actions and contribute to the implementation of the 3 thematic areas of the regional roadmap: advocacy, capacity building, and monitoring, within their respective sub-regional contexts.
UNESCO Bangkok and the secretariat of the regional Thematic Working Group Education2030+ represents the Asia-Pacific region and ensures regular communication and information exchange with the global coordination mechanism guided by the SDG Education 2030 Global Steering Committee. 
Three regional organizations have developed their own education framework integrating SDG4 goals and targets, and providing detail strategies and programmes to achieve SDG4 in their respective sub regions.