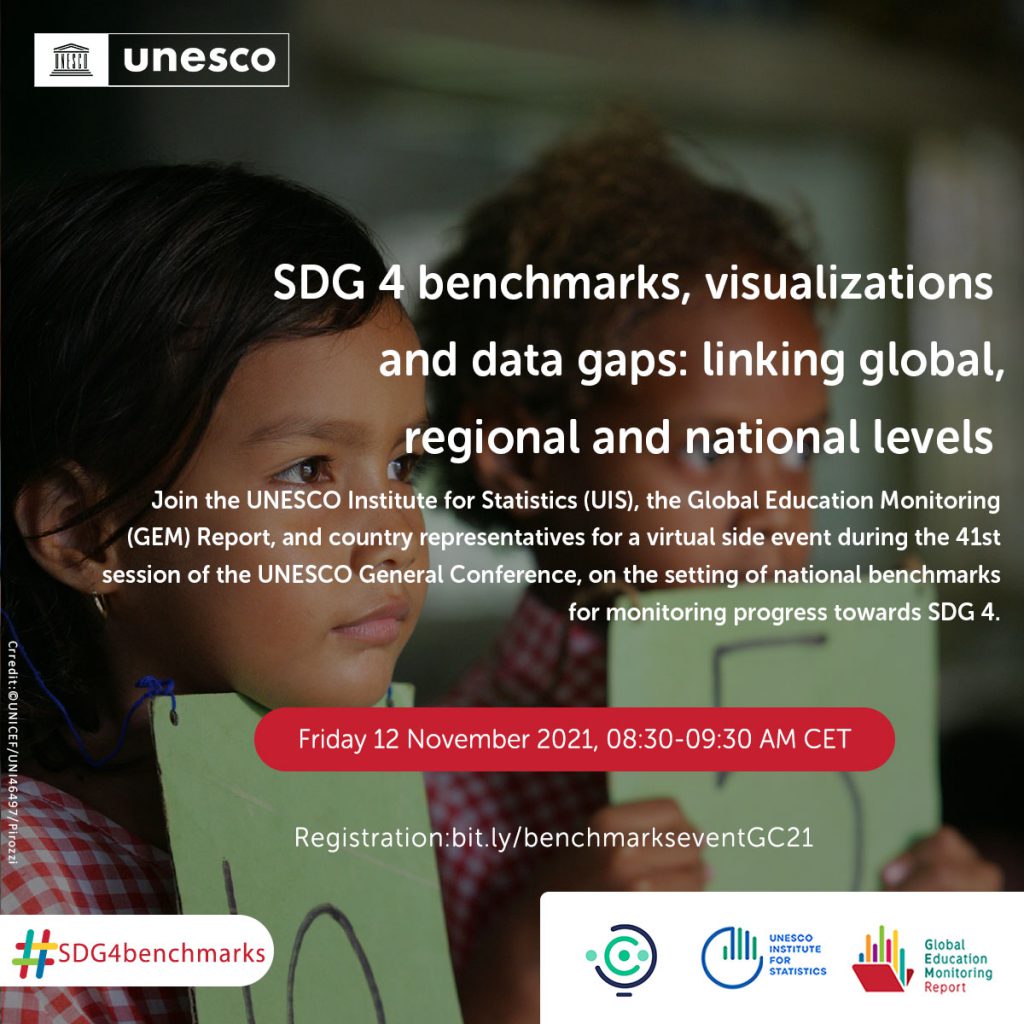 The UNESCO Institute for Statistics (UIS) co-hosted with the Global Education Monitoring Report (GEMR) a side-event during the UNESCO General Conference on setting national benchmarks for monitoring progress towards SDG4 on November 12, 2021.
 The featured speakers include:
E. Dipu Moni, Minister of Education, Government of the People's Republic of Bangladesh

Cheikhena Lam, Director of Planning and Education Reform, Ministry of Education, Senegal

Stefania Giannini, Assistant Director-General for Education, UNESCO

Bartek Lessaer, Policy Officer, Co-ordinator of the Education and Training Monitor, European Commission

Silvia Montoya, Director of the UNESCO Institute for Statistics

Manos Antoninis, Director, Global Education Monitoring Report

Dankert Vedeler, Chair of the Governing Board of the UNESCO Institute for Statistics (moderator)
Join us by registering online  bit.ly/benchmarkseventGC21.
On August 4th, UNESCO invited countries to submit their national benchmark values for 2025 and 2030 for each of the seven global and thematic benchmark indicators as their national contribution to the SDG4 progress.
As a result of this global mobilization, 39% of countries submitted national benchmark values as of 31 October 2021, and 10% of countries have committed to submit values in the upcoming weeks and months.
Read the latest blog A promise kept: more than half of countries set SDG 4 national benchmarks for the latest update on the SDG benchmarks setting. 
8th Meeting of the TCG
On November 2 2021, the TCG Secretariat convened its members and partners to the 8th TCG Meeting. It was preceded by a series of meetings of the TCG working groups.